Zuletzt von SenuX am Sa Aug 03, 2013 4:45 pm bearbeitet; insgesamt 1-mal bearbeitet

SenuX




Anzahl der Beiträge

: 319


Punkte

: 407


Anmeldedatum

: 12.10.12


Alter

: 30


Ort

: Großburgwedel



So ein neues Schmankerl für euch^^
Nations present in the game : USA , IJN , RN , KM
1 )Pré-Alpha : actually situation
2 )Alpha closed : shortly ( Q3 2013 )
3 )Beta closed : 2014 (Q1-Q3 )
4 )Open beta : ( Q3 2013 - Q1-Q2 2014 )
5 )Launching world of warships ( Q3 2014 - 2015 )
PC requierement : you do not need a super powerful computer , you should count 20-15 fps less compared to wot
CAMERAS
the different views are :
- Third person view
- binocular view
- arty-style view for long-range firing
- top-down view for aircraft managing
No free cameras mode and he was not possible often see water
Crew
Only the principal officers will be represented but if one is knocks it reduces the ability of the ship as wot .
The airacft pilot of the CV was represented by one officer .
Remerciement to all players and developers because it is thanks to them that I could make this topic .
And I hope this information will make you happy and good sea .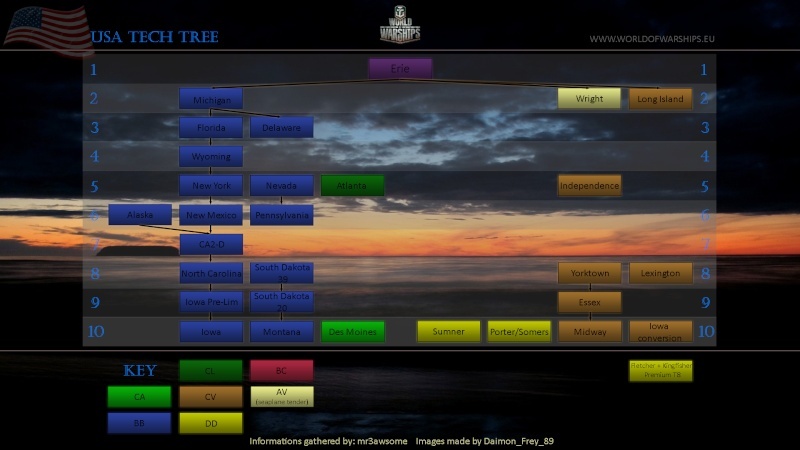 Quelle :
http://forum.worldofwarships.eu/index.php?%2Ftopic%2F1329-world-of-warships-all-info-alpha-beta-battleships-gameplay-ect%2F

SenuX




Anzahl der Beiträge

: 319


Punkte

: 407


Anmeldedatum

: 12.10.12


Alter

: 30


Ort

: Großburgwedel



Sobald irgendwo Bewerbungen für die Alpha möglich sind, sachste bescheid


---
Befugnisse in diesem Forum
Sie können in diesem Forum
nicht
antworten